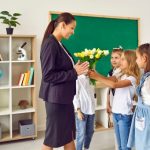 As a parent, it's essential to establish a positive and open line of communication with your child's teacher. By getting to know your child's teacher better, you can build a collaborative relationship that benefits your child's education. In this blog post, we will explore some effective strategies to help you connect with and understand your child's teacher on a deeper level.
1. Attend Parent-Teacher Conferences:
Parent-teacher conferences are a valuable opportunity to meet your child's teacher in person and discuss your child's progress, strengths, and areas for improvement. Make an effort to attend these conferences and actively engage in the conversation. Be prepared with any questions or concerns you may have, and take notes to ensure you have a clear understanding of what was discussed.
2. Communicate Regularly:
Establishing open lines of communication with your child's teacher is crucial. Find out the preferred method of communication, whether it's through email, phone calls, or a messaging app. Reach out to your child's teacher regularly to share any updates, ask questions, or provide feedback. Effective communication not only helps you stay informed about your child's academic journey but also shows your teacher that you are actively involved and supportive.
3. Volunteer in the Classroom:
One of the best ways to get to know your child's teacher better is by volunteering in the classroom. Ask if there are any opportunities to help out, such as reading to the class, assisting with special projects, or organizing events. Not only will you gain insight into the daily activities and routines, but you will also have a chance to observe your child's interactions within the school environment. Volunteering also demonstrates your commitment to your child's education and shows appreciation for the teacher's efforts.
4. Attend School Events:
Make an effort to attend school events, such as back-to-school nights, open houses, or parent education workshops. These events provide an excellent opportunity to meet other parents, administrators, and staff members. Engage in conversations with your child's teacher and gain a broader understanding of the school's values, curriculum, and overall educational approach. Attending these events shows your active participation and sends a positive message to your child's teacher that you are invested in their education.
5. Offer to Support Classroom Activities:
Teachers often appreciate assistance with classroom activities or special projects. Volunteer to help with class parties, field trips, or in-class presentations. By actively participating in these activities, you get a deeper insight into your child's learning environment and build a stronger rapport with the teacher. Collaborating on these projects allows you to see firsthand how your child's teacher interacts with students and engages them in the learning process.
6. Share Information about Your Child:
Take the time to share relevant information about your child with their teacher. Inform them of any unique learning needs, medical conditions, or personal circumstances that may impact your child's academic performance or behavior. Building a partnership with your child's teacher based on open and honest communication allows for a more personalized learning experience tailored to your child's specific needs.
7. Express Appreciation and Gratitude:
Don't forget to express your appreciation and gratitude for your child's teacher's hard work and dedication. A simple thank you note or a verbal acknowledgement goes a long way in building a positive relationship. Recognize their efforts in nurturing your child's learning and development. Showing gratitude fosters mutual respect and encourages continued collaboration between you and the teacher.
Summary
Getting to know your child's teacher better is essential for building a collaborative relationship that supports your child's educational journey. Attend parent-teacher conferences, communicate regularly, and volunteer in the classroom to gain insight into your child's academic environment. Take advantage of school events and offer support for classroom activities. Share information about your child and express appreciation for your child's teacher's efforts. By actively engaging with your child's teacher and establishing a strong partnership, you can create a positive and supportive learning experience for your child.
Got Questions? Let Us Help!
Wisdom begins with wonder at Magical Star Preschool! We are a family-oriented child care center with a loving staff and teachers. We make sure to keep our environment safe for all children between the ages of six weeks to 12 years. Our learning curricula are designed to encourage development while also preparing students of all ages for public school. Snacks, breakfast, lunch, and dinner are all provided. We assure you that all kids are in good hands. 24-hour surveillance is installed in all rooms and throughout the premises of the building, and parents will soon be able to log on to see to ensure their kids are being properly taken care of. Contact us today to learn more, or stop by the preschool for a tour!